Miracle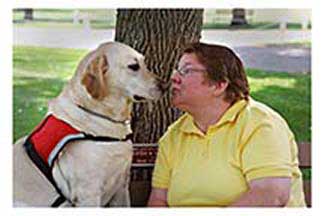 Miracle is just that; a true Miracle. She is a yellow lab service dog, but she's also my best friend. Miracle allows me to live as independently as I possibly can. She helps to mitigate my cerebral palsy on a daily basis.
Miracle was supposed to be the Program Spokesperson and Representative with Northern Indiana Service Dogs, however destiny had a different plan.
I was supposed to have a different service partner, but within 2 minutes of meeting Miracle, we clicked. We have been best friends since day one and that was 7 years and 7 months ago.
Miracle has been my everything; my independence, my sense of freedom and my sense of security. Through her support, dedication and training, I am able to live on my own and do the simplest of tasks.
As my muscles continue to weaken, Miracle is trained to assist in ways that allow for everyday living; opening and closing doors, retrieves, picks up dropped items, tugs, waits patiently, are just a small example of her commands. Miracle is also trained to "call for help" when I am too weak and have fallen.
I live in an apartment complex with 6 units on either side of a long corridor. Miracle has been my saving grace and hero by alerting neighbors that I am in danger. She will continue to "alert" until help arrives. Without her training, dedication and "alert", I would never be safe.
I am forever grateful to Northern Indiana Service dogs and to my Miracle, who is my steadfast companion and daily hero Show Less
Courtesy of Celebration Of Wildlife http://celebratewildlife.org/Winner